---
even The Dome can't hold it all!
---
This summer, join us at The Dome for an amazing summer camp run by our incredible staff! Open to children ages 6 to 12, this day camp provides a summer filled with games, creative activities and sports!
Every day at The Dome's summer camp features a wide range of group activities, focused on everything from athletic movement to creative exploration. Kids will have a terrific experience each day with opportunities to grow emotionally, mentally, and physically.
The Dome will be closed June 19th, July 4th, and July 5th.
Operating Summer Camp Safely During COVID-19
---
In order to keep our staff and our campers safe we'll be continuing to operate Summer Camp at The Dome with several new safeguards in place.
The Dome's Summer Camp is Packed with Fun!
Campers are assigned a group color on their first day. While at camp, they stay with that group on their designated field.
---
We've got a 180,000 square foot playground here at The Dome, and we make the most of it! This summer, we're providing our campers a huge range of activities to keep their minds and bodies moving. The turf is yours, the track is yours, The Dome is yours! Kids will even get to enjoy our new, state of the art laser tag system. Join us in the largest indoor playground in Alaska!
Track and field
Arts and crafts
Soccer
Reading
Paper airplane designing
Drawing
Remote Control Cars
Puzzles
Laser Tag
Hula hoop
Jump rope
Relay races
Bag Toss
Ladder Ball
Bingo
Legos
Perler Beads
Football Throw Contest
Frisbee Golf
Scoop Ball
Track and field
Arts and crafts
Soccer
Reading
Paper airplane designing
Drawing
Remote Control Cars
Puzzles
Laser Tag
Hula hoop
Jump rope
Relay races
Bag Toss
Ladder Ball
Bingo
Legos
Perler Beads
Football Throw Contest
Frisbee Golf
Scoop Ball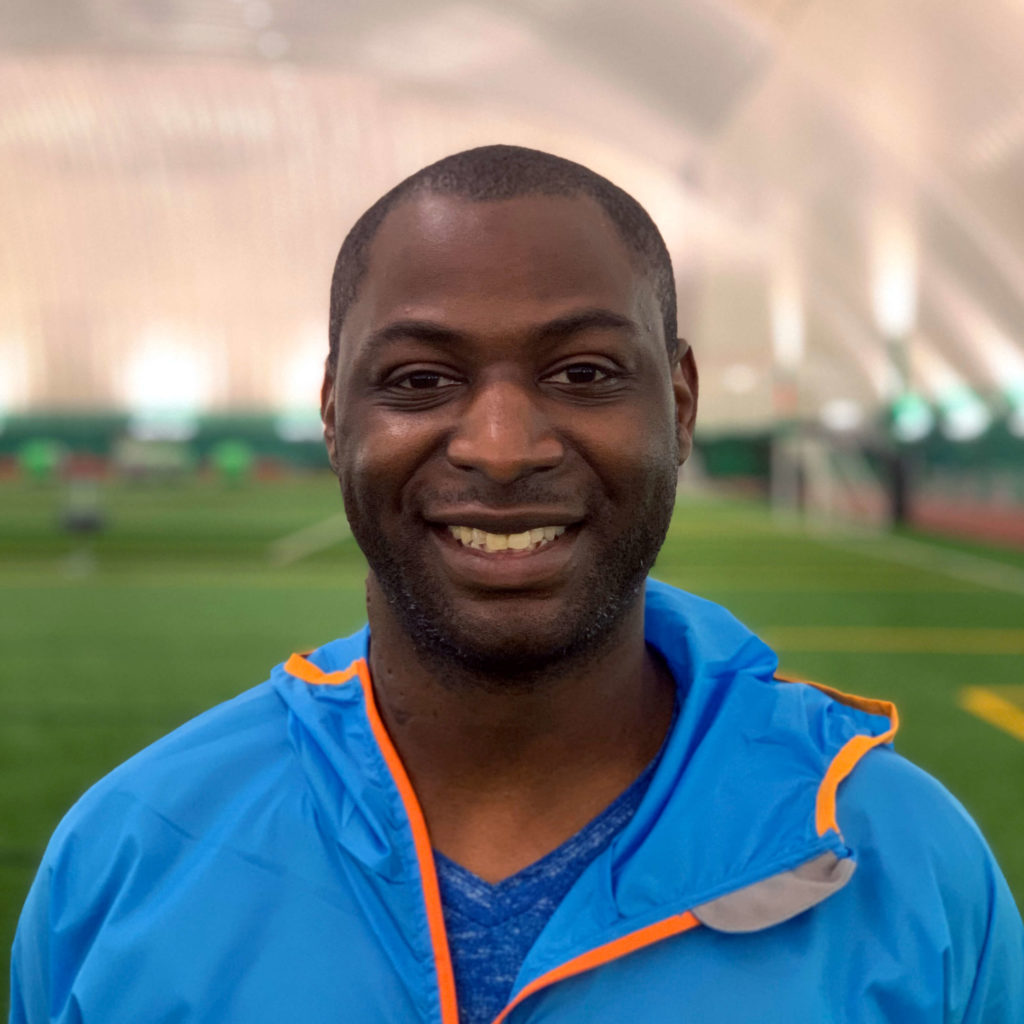 Hello! I'm David, the Director of Programs here at The Dome. I was born and raised here in Alaska, and earned my bachelor's degree in physical education while competing as a track & field athlete at University of Alaska - Anchorage. My goal is to create an environment of health, safety, and lots of fun! I oversee all programs at The Dome, including our hugely popular NFL Flag Football program which brings in hundreds of kids each season. Join us for the best summer camp ever at The Dome!
Hi, my name is Ally! I've lived in Alaska all my life and I'm in my second year of college. I enjoy hiking, spending time with friends, and going on adventures with my dog. I am so excited to be a part of Summer Camp at The Dome - this summer is going to be awesome!!
Hello! My name is Nick and I'm here to help our campers enjoy another fun filled summer at The Dome. I've been with The Dome since 2018, and working at camps even longer. I am very much looking forward to another great Summer Camp!
Hi, I'm Jenny! I am a freshman at the University of Utah, coming back to The Dome for my second summer. I love playing soccer and volleyball, but figure skating is my main sport. I am super stoked to be a part of The Dome's Summer Camp and meet all you cool campers!
Hi, I'm Amy! I'm from Virginia, where I graduated from Old Dominion University in 2019 with a degree in Sport Management. I've been at The Dome for one year. I love rugby, working in sport and recreation programs, and adventuring outdoors! I can't wait for another great Summer Camp here at The Dome!
My name is Riley, and I'm a freshman at Montana State University. I enjoy rock climbing, playing tennis, and lots of other outdoor activities. I am excited to continue working with kids this summer! Can't wait to see you all again at camp!
Hi! My name is Talha and I'm a sophomore at UAA studying Computer Science. I love spending time outdoors whether it's hiking, playing soccer, or snowmachining. I've lived in Anchorage for more than 10 years now and I'm really looking forward to seeing you for another awesome Summer Camp at The Dome!
Hi, I'm Colter. I am a life long Alaskan and recently graduated from UAA with a degree in fire science. I like to bike, swim, do mixed martial arts, and play video games. I am looking forward to Summer Camp at The Dome and to meeting all our campers!
Kids will even get to enjoy our state of the art laser tag system.
Our remote control cars will be fully charged and ready for action on the Rally Lights Raceway and the Timber Crawl obstacle course.
Every camper gets one of our limited edition t-shirts, even if they join us just for one day! Campers are welcome to wear their camp shirt any day, and they're required when we go on field trips.
---
Location, location, location.
We are centrally located at Raspberry and Minnesota, minutes away from downtown, southside, and midtown.
---
What Will My Camper Need To Bring?
---
Every camper will need to bring the following items with them each day. Campers each have an individual enclosed cubby (plastic tote) they can store items in.
Water bottle - our touchless bottle filler is available and sanitized with a food-grade sanitizer.
Book - Campers have time to read every day at The Dome! Feel free to bring your own reading material, or use donated books from Title Wave.
Active clothing & footwear - kids will be running around most of the day. Send your camper wearing clothes and shoes they'll be safe and comfortable playing hard in.
Two snacks and one lunch - please use insulated bags and ice packs as needed if food must stay cold. We cannot heat kids' food for them.
Also consider these items:
Sunscreen - we provide standard sunscreen, but if your camper uses a special formulation, please send it with them.
Lotion - all that handwashing can dry out skin.
---
Did you know our summer camp offers early drop off and late pickup for free? We know how hectic your day can get, so we're making it easy! Early drop off and late pick up are included with every camper.
The Dome will be closed June 19th, July 4th, and July 5th.
Drop off / Pickup: 7:30AM – 6PM
Ages 6-7 • Ages 8-10 • Ages 11-12
Camp registration must be completed by 7:00 PM the previous day.
---
A processing fee of $50 is included in the price of camp. Individuals who cancel or modify their registration and request a refund 4 weeks or more in advance of their camper's first registered day will receive a full refund 
minus the processing fee
. To cancel or modify and request a refund, please email 
[email protected]
.