Everything under one roof
---
---
Drop in or become a member for unlimited use of all the following
---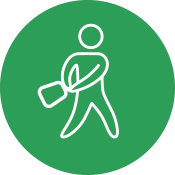 Pickleball
Play the popular, smaller version of tennis featuring paddles and a lightweight plastic ball. The Dome features an all-new regulation pickleball court with painted lines on a hardcourt surface. The net is always set up and paddles are here for you!
Badminton
This racquet sport shares the same area as pickleball, featuring a regulation sized court and setup. No need to bring anything except you and a friend, The Dome has it all ready!
Table Tennis
We've got two tables always set up and ready for play. Paddles and balls are available at the tables themselves with plenty of room around them for active play.
Free Weights
Perform a variety of muscle toning and building exercises with free weights available to use as needed.
Medicine Balls
Work on your functional strength with our new medicine ball kit.
Yoga
Stretch and work out your core with one of our yoga mats, cleaned and maintained for your use.
Batting Cages
Pitch to a friend in one of our two new batting cages! Use The Dome's baseballs and bats, or bring your own.
Squat Rack
Build up your quadriceps and other major muscle groups with our squat rack and Olympic weights. Bumper plates are available for powerlifting as well.
Plyometric Jump Boxes
Use our plyo boxes to load your jumping muscles and work on your vertical leap.
Long Jump
How far can you jump? Leap into one of our two sandpits along the track.
Walk, Jog, Run, Sprint
Use the 400-meter track for walking alone, with a friend, push your stroller, jog, or sprint as you build up your speed.
Enjoy unlimited use of The Dome with a membership! Available with two options, memberships include individual or family. Choose between a monthly or annual membership depending on your usage. Discounts available for seniors and military.
BUY A MEMBERSHIP
Day Passes are available for $12. They provide access to every activity available at The Dome! Buy a single Day Pass, or one of our multi-packs and save yourself money, in advance online or in-person!
BUY A DAY PASS
Play volleyball inside The Dome through our user group, Anchorage Sports Association!
Play Rugby on The Dome's all-new turf with Anchortown Rugby, part of Alaska Rugby Union.
Play pick-up games with the Anchorage Ultimate Frisbee Association as they play in The Dome during the week.